About Official Aspire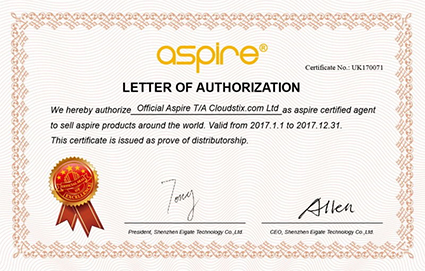 Aspire UK Distribution
In May 2016 Aspire Launched 3 Distribution & Support centres right here in the UK. Each Distribution hub and support centre is responsible for servicing a particular region of the UK.
OfficialAspire.co.uk are responsible for servicing the North of the UK from Liverpool right up to the Highlands of Scotland. You can verify our credentials as one of Aspire's UK representitives by visitng Aspire HQ website and looking at the UK partners. http://www.aspirecig.com/business-partners/UK/
In addition to this please find a copy of our certificate of Aspire representation signed by the CEO & General manager of Aspire HQ.
Daily we speak with many UK electronic cigarette vendors that stock Aspire products. We not only service them with fast delivery of their stock but we support any issues that arrive once the stock has been sold on in the UK market. By purchasing your Aspire products from us you are getting a fantastic wholesale price that is so appealing you will never import direct again. In addition to this by purchasing from us you are effectively buying direct from the Aspire factory and so you can rest assure knowing all your products in your store are 100% genuine.
So why have Aspire done this ?
1. With the TPD regulation now set in stone and hitting the UK on the 20th of May 2016 Aspire wanted to have an official distribution team in place to take on the burden of product notification, testing & submissions for their products within the EU. Our distribution team will be responsible for this and so if you are dealing directly with our distribution team you do not have to worry about the TPD when selling Aspire TPD compliant products. TPD compliant products are what the R & D team at Aspire Head Office are fully focused on right now, so you can expect an explosion of fantastic products onto the market that are TPD compliant very shortly. If you are a Vendor based in the UK we are taking all of the hassle and stress away from you caused by the paperwork and notification required for all Aspire Products. In addition to this we are supplying genuine Aspire products at a UK buying rate that has never been seen before. So once you register as a wholesale customer and see our pricing you will never have to bother with TPD, importing products, import duty and tax it has all been taken care of by the Aspire UK Distribution team.
2. Aspire believe in fantastic customer support and until the UK distribution team was setup it was hard to get support direct from Aspire. Consumers found they left messages on Aspires forum or social media that easily got lost and were unanswered. In addition to this you may have found yourself buying from agents or traders based in China whom more often than not once they have taken your order and more importantly your money they fail to deal with any returns or warranty issues you may have. Of course all good customer service starts with YOU, the Vendor, you are the first point of contact for your customer and will would hope you service your customers well.
Official Aspire UK will work with you to better service your customer in the form of product support which can solve the issue quickly in your store to avoid your customer getting upset and cut down the number of returns on your products. When buying direct from us if a problem does arise with your order you will have a dedicated customer support centre in your region that you can speak with Monday - Friday during normal business hours. In addition to this you will have a support email that shall be monitored until 10pm each night giving you access to Aspire support at any given time.
Official Aspire UK will also be launching a support section, accessed via our website very soon. We will be listing the most common issues reported with our products and you can quickly find the answers to your customers issue within seconds. Again eliminating the need to spend time on the phone to our team and speeding up the process of unhappy customer to happy customer.
The Aspire UK Distribution team is run by Directors of vape stores so we know what you face from your customers on a daily basis. We have the knowledge and experience to help you better your own customer service. That is not to say we are here to run your business, far from it, your business is your own and yours to run as you see fit but with our team behind you we hope to help you grow as the electronic cigarette enters a new era under TPD regulation.
By choosing to buy from OfficialAspire.co.uk you are effectively gaining a UK based support team right at your fingertips.
3. Aspire have expressed concerns about the UK market being very unbalanced in terms of the retail prices of their products. We all have seen the facebook traders selling products at a fraction of the price and this totally devalues the product and forces internet and high street vendors into a price war. In addition to this we also know there are many vendors that ask unrealistic prices for our products and this puts the customer off buying Aspire.
By the end of 2016 Aspire have asked us alongside the other UK distributors to be able to control the RRP that their products sell for in the UK. They are giving us the power & the tools to do this, more news shall be released on these changes as they happen, but i am sure you will agree a more stable market with stable pricing is what the UK needs. This will be more than enough for UK vendors to make their margins and will allow all UK customers to have access to our current and future product lines at a fair price without devaluing the products.
4. Aspire are trusting us to feedback the ever changing demands of the UK market. We will work with all UK vendors that are our customers to create fantastic product lines that your customers are craving. The UK market is so unique when compared to the rest of the world that Aspire believe it is right to have feedback from people that work in this industry, in the UK every single day. So we will work with you and we ask you to seize this fantastic opportunity to have one of the worlds leading manufacturers in our industry to not only listen to your demands but act on them. Trust us when we tell you our meetings with Aspire leading up to the UK Distribution launch have featured product development very heavily. Aspire agree that we know the UK market better than them and so they trust us to feed back the requirements of all UK vendors so that we can become the number one brand in this industry in the UK.
So as you can see the UK market is going to be serviced very well by Aspire and we hope that all UK vendors will now use this service and propel your business forward in the coming years.
If you have any questions regarding the UK Distribution team, the TPD, our support service or our products please feel free to contact us.