Aspire AVP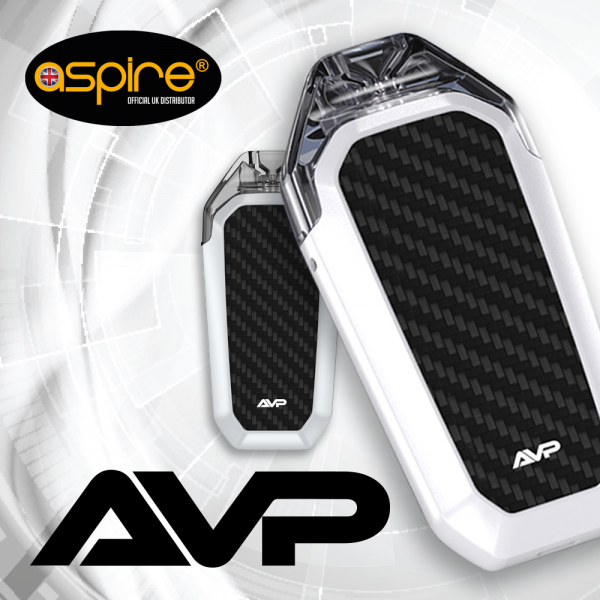 Important Battery / Charging Safety
Aspire are committed to our customers safety and highly recommend reading the following safety advice before using ANY rechargable battery.
1. DO NOT use Iphone, Ipad, Smart Phone, Tablet Plugs or wall fitted USB points. Check the plug adaptor / USB Cable output and check the supported charging range of your vape hardware. If the plug adaptor output, usually in AMPS, is not supported by the Vape Hardware then do not use it.
2. DO NOT leave ANY rechargable battery on charge overnight or unattended. Also never charge in direct sunlight or any hot environment.
3. DO NOT store external vape batteries (18650's etc) in pockets. Avoid keys, coins & mobile phones. If your battery wrap is ripped, dented or other DO NOT USE.
Need Some Help ?
If you are a wholesale or retail customer and require any assistance at all our staff are ready to help you.
Call Us: 0333 577 5002 (UK local rate charge) 9:30 - 17:00 Monday to Friday.
Email Us: You can email our team 24/7 on admin@officialaspire.co.uk.
Social Media: We have a huge presence on Facebook, Twitter and Instagram. Search Official Aspire.

Aspire

AVP

Pod System
Presenting our latest Pod System - The Aspire AVP is set to be a stand out Pod System in 2019 read on to find out why...
The Aspire AVP is available in 8 different styles including x3 new ones to suit all individual preferences...

The Aspire AVP feels amazing in the hand. With its robust outer structure and its sleek design angles the device is both ergonomic and the perfect fit for all users.
Aspire

AVP

Performance
The AVP really comes into its own when in use. You can choose 3 different levels of power output - 8 watts, 10 watts or 12 watts. Led indicators on the device will always let you know which power setting you are currently in. All wattage settings remain constant regardless of battery life, therefore no power sags are felt when using the device at all. All 3 power levels are suitable for the pods self contained 1.2ohm coil and flavour / vapor production is outstanding.
The Aspire AVP features a much improved auto draw system, no button to press to vape, simply inhale. The new system has removed previous issues with auto draw that sometimes engaged auto fire in some situations. The Aspire AVP auto draw is both smooth and well worked and actually a delight to use.
Recommended for use with either Nicotine Salt E-Liquid or High PG or 50/50 MTL Juice to get the purest performance from the device.
The battery holds a very nice 700mah capacity which for its device is quite an achievement. Battery levels hold strong due to the 1.2ohm coil in the AVP Pods but the device can be charged easily and quickly via the micro USB port. When charging the LED will give true charging indication so you know exactly where your daily levels are at.

The AVP

POD
The pod in the AVP is very easy to remove / replace / refill. The pod is no longer held in place via clips and the pod is actually magnetically docked with the battery section. This eliminates any possibility of end users breaking clips over time and provides a much smoother experience when in practical use.
Refilling the pod is so easy, we have introduced the revolutionary push and fill system found on some of our latest models. This eliminates any chance of leaks and of course makes the device fully child proof.
Pods are available now to purchase seperate in value packs of 2. Both the kits and pods are sold at excellent trade / retail pricing.


What do you

get in the box

?
x1 Aspire AVP Battery Unit.
x2 Aspire AVP Pods (Coils included)
x1 Micro USB Charging Cable
x1 AVP Lanyard
x1 Instruction Manual
x1 Warranty Card.