Aspire Cleito 120
Need Some Help ?
If you are a wholesale or retail customer and require any assistance at all our staff are ready to help you.
Call Us: 0333 577 5002 (UK local rate charge) 9:30 - 17:00 Monday to Friday.
Email Us: You can email our team 24/7 on [email protected]
Social Media: We have a huge presence on Facebook, Twitter and Instagram. Search Official Aspire.
Aspire

Cleito 120

Maxi-Watt Tank
The Aspire Cleito 120w Tank produces monster clouds and flavour never seen in stock coils before.
The Cleito 120 is so ground breaking that it sets the bar for the new Maxi-Watt Cloud beast tanks that are making the way onto the market. Ramp up to 120w and enjoy smooth airflow, intense flavour production & gigantic vapour clouds. The Cleito 120w's revolutionary new design provides a controlled airflow with ultra-efficent wicking think VG juice.
In testing against some of its other competitors in the market, the Cleito 120w wins in both Flavour and Vapour production without doubt. So if you want to be the king of the Cloud Chasing then you know which tank to buy.
The Cleito 120w is low profile for a a cloud monster and holds 2ml of juice. It has a 24mm deck, wide bore delrin drip tip.
The Aspire Cleito tank is now on sale here at Official Aspire, it has been creatively designed to provide a greater vaping experience than ever before.
Having only been available for short period of time it has been categorised as one of the best innovations in vaping technology, and is considered to be in a league of its own!
The clouds and flavours are bigger and better than ever been, so don't miss out on your chance to own a piece of ground breaking vaping royalty!
The 120w Maxi-Watt tank has been specifically manufactured to eliminate any restrictions and ensure that the maximum airflow is achieved.
So, if you're looking for an efficient, powerful tank that provides smooth airflow, intense flavour and monster vaping clouds for your Aspire Cleito coil, look no further than Official Aspire.
Don't hesitate to order yours today!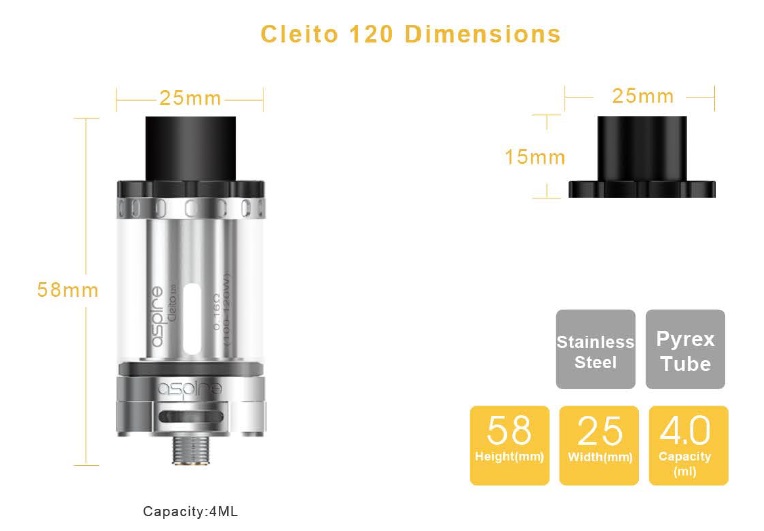 The Cleito 120w may look like a standard Cleito but it has a taller chimney, wider drip tip and much larger air holes.
Whilst the new Cleito 120w coils are rated at 120watts you can push them higher if you have a suitable device. Adjust the wattage to your tastes but this is for Cloud Chasers with a high powered mod that can handle these coils. If you only vape at 40 - 60 watt then stick with the original Cleito.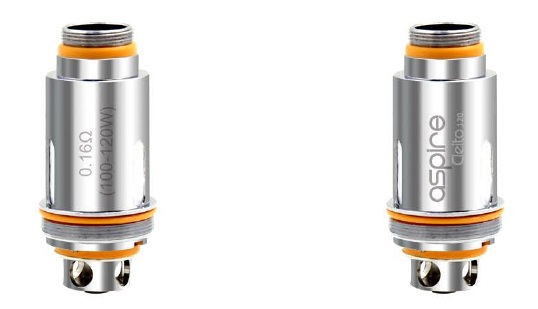 Whats in the box ?
x1 Aspire Cleito 120w Tank.
x2 Cleito 120w coils (1 pre installed).
x1 User Manual.
x1 Warranty Card
x1 Aspire Vape Band
Total Reviews (1)
click here write review to add review for this product.