Aspire Odan Mini Tank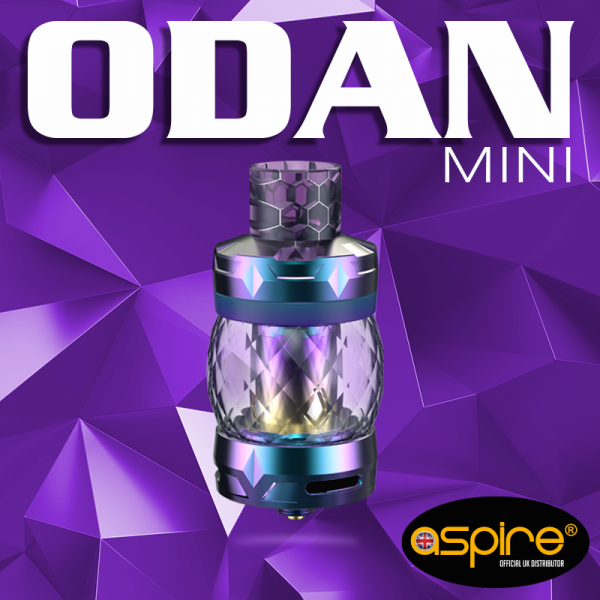 Need Some Help ?
If you are a wholesale or retail customer and require any assistance at all our staff are ready to help you.
Call Us: 0333 577 5002 (UK local rate charge) 9:30 - 17:00 Monday to Friday.
Email Us: You can email our team 24/7 on admin@officialaspire.co.uk.
Social Media: We have a huge presence on Facebook, Twitter and Instagram. Search Official Aspire.

ASPIRE

ODAN MINI

TANK
The Aspire Odan Mini Tank is a slimmer / smaller version of the Aspire Odan. Perfect for those low profile setup lovers out there.
Hailing the all new technology found in the Aspire Odan and the amazing new design style. The Aspire Odan Mini tank is available in 6 colours at launch.

The Aspire Odan Mini Tank is available in Dark Blue, Emerald, Rainbow, Stainless Steel, Smoky Quartz & Classic Black.

The Aspire Odan Mini Tank also has the following asthetic additions as well...
1. Eye catching 810 Honey Comb Stylish drip tip to perfectly compliment the colour of the tank.
2. Optional Diamon Cut Crystal Glass (sold seperate) to upgrade the final look of the new tank.
3. High Polish PVD Coating is used to finish the tanks. This gives them a true luxury feeling and look that makes the product stand out from the crowd.
ASPIRE ODAN

MINI

SIZE

The Aspire Odan Mini tank is a slimmer version of the Odan, perfect for those low profile lovers out there.
The Diamond Crystal version of the glass is available as a seperate purchase should you wish.
ASPIRE

ODAN

COILS

The Aspire Odan tank features x2 brand new coils with all new wicking elements made up of 80% Linen Cotton and 20% Japanese Organic Cotton.
Linen Cotton is resistant to high temperatures, it is much more efficient at slow wicking juice than regular cotton and has antibacterial characters as well. Japanese Organic Cotton has a long history of use in vaping due to the fresh / natural way it tastes when vaped and of course balances the wicking process against the Linen cotton really well.
The result when used with the all new mesh material means an extremely smooth experience, ultra intense flavour and thick dense clouds.
The Aspire Odan Coils currently have x3 variations: 0.18ohm Mesh, 0.2ohm Mesh ( 50-60watts ) and 0.3ohm Mesh ( 35-45watts )
NEW

SELF SEALING

COIL SYSTEM

The Odan has a Plug and Play easy coil system that makes coil replacement super simple—replacing a coil has never been so easy. The new system integrates an e-liquid shutoff valve to prevent e-liquid getting into the coil chamber while you swap coils. This means you don't need to worry about e-liquid spilling out while changing your coils.
Easy top fill solution making huge improvements over previous fill ports. Pull and push the top cap, add your preferred e-liquid through the filling port.
NEW ASPIRE ODAN Mini GLASS OPTIONS
The Aspire Odan Mini of course is fully TPD compliant and therefore ships with a 2ml Tank as standard.
Other options of glass are the amazing diamond cut crystal design. This is available via seperate purchase, and really does finish the whole look of the tank to an outstanding level.
ASPIRE ODAN MINI INSIDE THE BOX

Total Reviews (0)
click here write review to add review for this product.