Aspire BVC Coils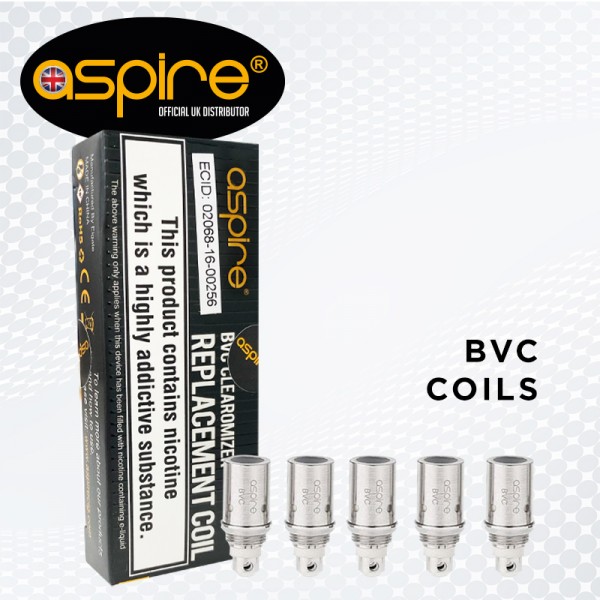 Need Some Help ?
If you are a wholesale or retail customer and require any assistance at all our staff are ready to help you.
Call Us: 0333 577 5002 (UK local rate charge) 9:30 - 17:00 Monday to Friday.
Email Us: You can email our team 24/7 on [email protected].
Social Media: We have a huge presence on Facebook, Twitter and Instagram. Search Official Aspire.
5 Pack of
Aspire BVC Coils
.
Retain your customer by always having Aspire BVC coils in stock at your store.
The Aspire BVC coil that drives the Aspire CE5, Aspire ET-s Glass and of course the Aspire K1 & K2 quick start kit.
The coils come in 2 different resistance, 1.6ohm, 1.8ohm
These coils are very simple to change and provide a strong retaining customer value.
Works great on all eGo batteries and low end power mods.
5 Pack of Aspire BVC coils.

Compatible with Aspire CE5, Aspire ET-S Glass, Aspire K1 tank & Aspire K2.

Dual Coil BVC atomizer.

Perfect for retaining your customer.
Bottom vertical coils or 'BVC coils' are built vertically instead of horizontally. They are manufactured to the highest quality and guarantee a smooth, flavoursome vape every time you inhale.
The BVC coils are an improved version of the BDC (bottom dual coil) technology, allowing for a long lasting vape.
ASPIRE

BVC COILS
Here at Official Aspire, we supply a wide range of Aspire BVC coils which are compatible with:
Aspire CE5

Aspire ET-s glass

Aspire K1 and K2 quick start kits
Our Aspire BVC coils are available in 2 different resistances: 1.6 ohm and 1.8 ohm. The lower resistance BVC replacement coils are renowned for:
strong throat hit

more heat

more vapour

using more battery life

using more e-liquid
Higher resistance coils deliver:
smooth throat hit

less heat

less vapour

using less battery life

using less e-liquid
BENEFITS OF

ASPIRE BVC COILS
You can easily switch BVC replacement coils as and when you need to. You simply need to unscrew the metal bottom of the tank and carefully unscrew the old coil, before fitting the new BVC coil, refilling the tank with your favourite e-liquid (if necessary) and screwing the bottom back on.
Using the latest atomiser technology, the Aspire BVC coil can prolong the life of coils and also deliver a superb sensation for vapers - allowing them to create huge vapour clouds whilst enjoying intense flavours.
ORDER

BVC REPLACEMENT COILS
When you're ready to purchase BVC replacement coils, look no further than Official Aspire. Our team is always on hand to guide and advise you - making sure you order the most suitable coils for your hardware. So, feel free to call us on 0333 577 5002 to discuss your requirements in further detail.
Total Reviews (0)
click here write review to add review for this product.