Aspire Tigon Kit
Important Battery / Charging Safety
Aspire are committed to our customers safety and highly recommend reading the following safety advice before using ANY rechargable battery.
1. DO NOT use Iphone, Ipad, Smart Phone, Tablet Plugs, Third party adapters or wall fitted USB points. Check the plug adaptor / USB Cable output and check the supported charging range of your vape hardware. If the plug adaptor output, usually in AMPS, is not supported by the Vape Hardware then do not use it.
2. DO NOT leave ANY rechargable battery on charge overnight or unattended. Also never charge in direct sunlight or any hot environment.
3. DO NOT store external vape batteries (18650's etc) in pockets. Avoid keys, coins & mobile phones. If your battery wrap is ripped, dented or other DO NOT USE.
Need Some Help ?
If you are a wholesale or retail customer and require any assistance at all our staff are ready to help you.
Call Us: 0333 577 5002 (UK local rate charge) 9:30 - 17:00 Monday to Friday.
Email Us: You can email our team 24/7 on [email protected]
Social Media: We have a huge presence on Facebook, Twitter and Instagram. Search Official Aspire.

Presenting the all new Aspire Tigon Kit in stock right now at the Official Aspire UK warehouse. The Tigon Kit is a revolutionary pen style device that caters for MTL users and those progressing into Sub Ohm Vaping. Perfect for those whom are quitting tobacco for the first time and those whom are ready for an upgrade on their current device.
Take a look at the launch video so you can fully understand the tech in the Aspire Tigon Kit
Lets take a look at the features on this device.
The Aspire Tigon is the first Aspire product to use an ingenious design that will seal the wicking holes in the tank when the coil is removed. Therefore it eliminates any vaccum that could cause a leak, the performance of the tank to improve and of course gives the end user 1000% confidence in the tank when carrying in their bags, pockets etc.
The Tigon Tank has x2 types of airflow depending on your requirements. MTL users will no doubt love the draw and options available and those that value a restricted sub ohm draw will be in sheer heaven with this device.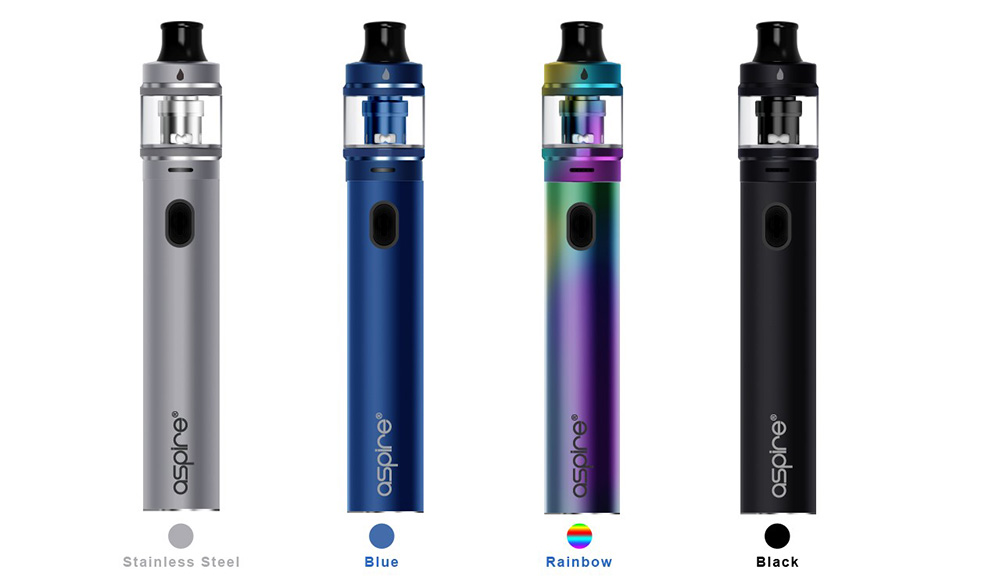 The Aspire Tigon is available in 4 eye catching colours. Stainless Steel, Blue, Rainbow and Black making sure that all consumers needs / preferences are catered for.
The Tigon Tank is completely child proof with an all new filling system that prevents leaks and zero chance of an infant being able to open and reach the E-Liquid chamber.
First pull up on the top cap, then with your thumb or finger on the drop marker, slide open the top cap to reveal the silicon leak proof seal of the fill port. The silicon fill port on the TPD version tank has a self-sealing valve into which you can insert your chosen filling bottle nozzle to fill the tank.
Closing the tank is the opposite, slide the top cap back into place covering the silicon seal and push down.
Remember, when using a new coil, to let the cotton of the coil saturate in the e-liquid for 5 minutes or so before you start to vape. This will ensure that you don't get dry hits or damage the coil.

Powered by an internal 1800mah battery the Aspire Tigon is so easy to charge and will keep users going throughout their daily routine easily. As you would expect from all Aspire products it has a wealth of safety features to protect our customers.

Supported by the all new Tigon Coils that are available in either 0.4ohm Sub Ohm or 1.2ohm MTL the Aspire Tigon will be an epic choice for flavour, nicotine hit and style.
Supporting both sub ohm and MTL users the kit features x2 drip tips to match your preferences a wide bore for sub ohm and a long neck for MTL.
What you get in the kit ?
x1 Tigon Kit

x1 Replacement Glass
x2 coils both variants.
Spare 0-rings.
x2 Drip tips different styles.
Warranty card
Instruction manual.
Total Reviews (0)
click here write review to add review for this product.