Banana Haze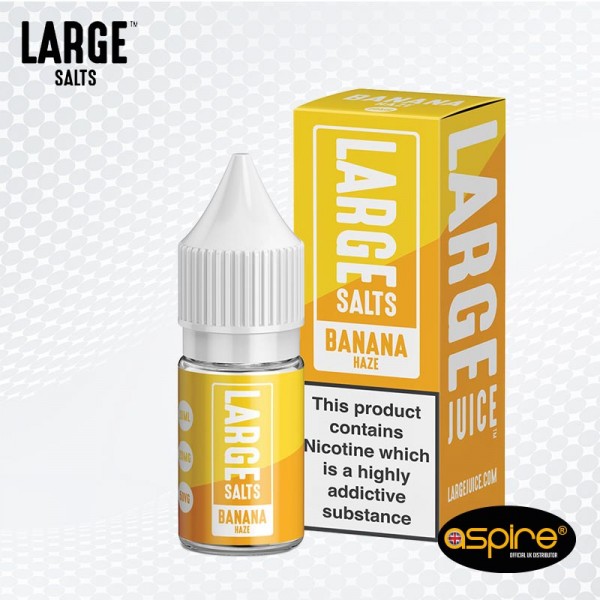 Need Some Help ?
If you are a wholesale or retail customer and require any assistance at all our staff are ready to help you.
Call Us: 0333 577 5002 (UK local rate charge) 9:30 - 17:00 Monday to Friday.
Email Us: You can email our team 24/7 on [email protected]
Social Media: We have a huge presence on Facebook, Twitter and Instagram. Search Official Aspire.
BANANA HAZE NICOTINE SALT

OFFICIAL ASPIRE
The 10ml bottle of Large Salts Banana Haze Nicotine Salt Eliquid includes a sweet and aromatic blend of creamy banana, juicy pears, and tasty hazelnuts.
Flavour Profile:
• Banana
• Hazelnut
• Pear
Specifications:
Large Nicotine Salt Eliquids is a fantastic brand that features a concentration ratio of 50% VG ( Vegetable Glycerine ) and 50% Mixed PG ( Propylene Glycol ) high-quality food flavourings and Salt nicotine. A perfect blend for MTL ( Mouth To Lung ) vaping! This Nic Salt is fully compliant with all TPD rules and regulations.
IMPORTANT: This is a Nic Salt product which we do not recommend using in a sub-ohm device.
Mix Ratio: 50 / 50
Bottle Size: 10ml TPD Regulations Compliant.
Nicotine Levels: 10mg & 20mg Smooth Nic Salt

Bottle Size
Bottle Size
10ml
Base Flavour
Base Flavour
Banana, Hazelnut, Peach
Mix Ratio
Mix Ratio
50/50 VG